Hit the links
The Lake of the Ozarks has developed a reputation as a premier destination for golfers, with good reason.
Old Kinderhook, in Camdenton, is a par-71 course on beautiful 700-acre grounds. It's one of central Missouri's top courses thanks to elevation changes and topography.
Hole seven—a par three, which is the course's shortest—includes a deep ravine that golfers must cross to reach the green. Alternatively, hole 14, a par five, is the longest at Old Kinderhook, where golfers face an uphill climb with water along the left side of the hole.
Osage National Golf Resort, in Lake Ozark, has 27 holes, 18 of which were designed by the great Arnold Palmer. As expected, it's one of the most beautiful courses in the state.
The course features five sets of tees, allowing golfers of all talents the appropriate challenge. Gold tees will give you more than 7,200 yards, but there are plenty of options for less seasoned golfers.
You'll find another 18 holes at The Oaks, one of the golf courses at Tan-Tar-A Resort. This course is another sight to behold, with tree-lined fairways and beautiful views of nature.
The Oaks is known for its playful approaches and dozens of bunkers and water hazards. In 1994, this course even hosted the PGA Professional Championship, challenging some of the top pros in the country.
Lodge of the Four Seasons also offers fabulous golf in the form of Seasons Ridge, one of two championship golf courses at the resort. Course architect Ken Kavanaugh made use of the beautiful natural terrain to design this 18-hole, par-72 course.
All of these courses offer plenty of amenities off the fairway, including fully stocked pro shops, restaurants, bars and more.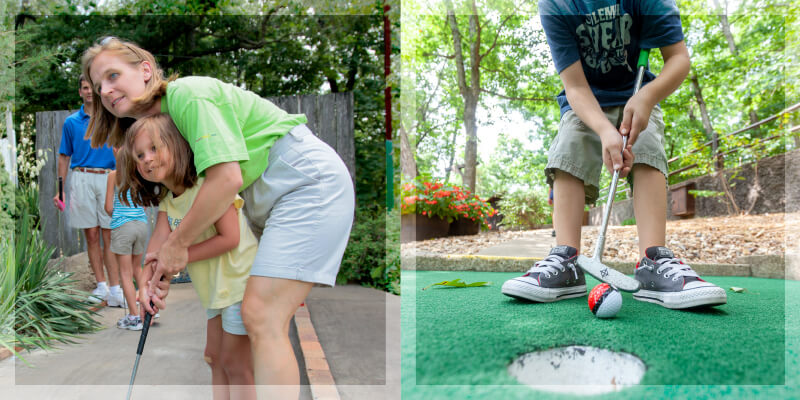 Hit the (mini) links
If nine-irons and sand traps are a bit much, maybe windmills and clown mouths are more your speed. The Lake of the Ozarks has many miniature golf courses, including Sugar Creek Miniature Golf, which most resembles a classic golf course thanks to its placement among trees and other natural beauty. Located in Lake Ozark, it offers two 18-hole courses that are among the more challenging mini-golf courses in the area.
While Sugar Creek plays up the beauty of the Ozarks, Pirate's Cove Adventure Golf, in Osage Beach, takes mini-golfers back to the 18th-century world of buccaneers. With footbridges, waterfalls, caves and two 18-hole courses, Pirate's Cove is truly the adventure it promises.
Also in Osage Beach is Putt N' Stuff Family Fun Center, which features two 18-hole courses with traditional miniature golf obstacles, plus bumper cars and the nearby Gran Rally Go Karts. The newly remodeled courses feature caves, rivers, waterfalls and several memorable animal statues.